Veggie Paint Set | Sunrise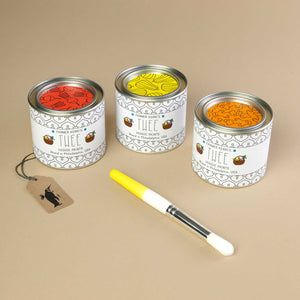 Make veggies fun again with this new eco-friendly, non-toxic, Veggie Paint Set | Sunrise. Using paper, canvas, wood or other surfaces, these paints will
…

Description
More To The Story
Dimensions
Safety & Care
Description
Make veggies fun again with this new eco-friendly, non-toxic, Veggie Paint Set | Sunrise. Using paper, canvas, wood or other surfaces, these paints will inspire your child to create artwork in a vibrant and eco-friendly way.


Set contains 3 tins of powder based veggie paints (raddish red, ginger orange, squash yellow) and one (1) custom designed paintbrush. 
Directions for use:
- Mix 1 tsp of veggie paint powder with 2 tsp of water. Let rest for one minute. 
- Add additional water to meet desired consistency. For thicker finger paint, use less water. For thinner watercolor paint use more water.
- Store unused mixed paint (covered) in the refrigerator.  Store veggie paint powder in a cool, dry place.
More To The Story
TWEE is a woman-owned Philadelphia maker's studio specializing in reimagined, eco-friendly, childhood classics for playtime. All TWEE products are handmade and perfectly designed for little ones, helping to increase grip strength and fine motor skills while encouraging creative play. TWEE provides the much-needed break to take a step back, to make believe, to share experiences with friends and to create your very own masterpieces. 
Dimensions
Each tin contains approximately 3oz veggie paint powder
Safety & Care
- Recommended for ages 3+