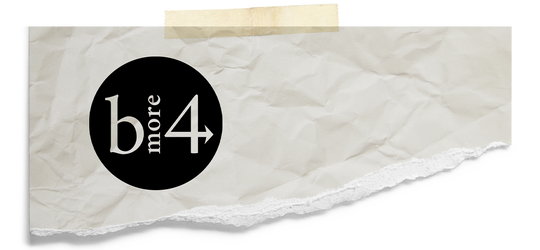 b more 4
You know that feeling you get when you discover something new - mysterious - surprising - unusually clever - simply beautiful (or beautifully simple)...
You get the idea.
Chances are, you can't help but stand there for a minute. Or several. Your eyes grow slightly wider, your mouth might drop open just a little. You gaze & stare. Take it all in. All the while the world sort of disappears for the briefest of moments.
That feeling.
That's a feeling I get everyday.
Not in the "watching a volcano erupt in person" kind of way.
More in how the limbs of a particular tree might reach to the sky, or the crazy fast speed of a hummingbird's wings (seriously - like 50 times per second!), or (yes!) discovering that perfect gift for someone I love.
Think about it for a minute.
Despite the heaviness of life we've all experienced over these past 2+ years, you have to admit we live in a pretty magical world. ✨
But as adults we're so busy "adulting" we forget to slow down for a nano second to not only appreciate, but enjoy the wonder & awe our lives are filled with every single day.
And it certainly doesn't help that society tells us those feelings are specifically reserved for children.
I'm calling nonsense.
It's one of the many reasons I started this business, and why the 🖤 & soul of pucciManuli revolves around our steadfast encouragement to re-discover that wonder & awe you felt as a child. 
When:
In other words:
Be more 4.
Yep.
Be more 4-year old.  
That magical age when curiosity & imagination gave way to creativity, problem solving and innovation. Do you remember those pop-up bed tents? The ones you put over the mattress that look like a hybrid igloo/camping tent? ... Those tents were a result of thousands of kids at that magical age who simply wanted to watch TV under the covers - including me (and I love that someone finally decided to make them).
And because we know just how powerful curiosity and imagination can be, we actively seek out and celebrate the analog: we don't sell anything that requires batteries or electricity to operate…
 OH! 
And did I mention? In our 15 years of business we've refused to sell anything made primarily of plastic (none - nada - zilch)?...
And the more curious we are, the more we grow as humans. Because of this, we're big on timeless traits you learn as a child…
All this curiosity and imagination can lead to endless possibilities, which is a great thing! But it can also be overwhelming.
So we put on our editorial glasses and ensure the gifts we offer exude quality, because we learned a very long time ago: quality is intentional.
Always.
William A. Foster said it best (it applies to pretty much everything in life, and remains a guiding principle for us today): 
This unique little mash-up of curiosity & imagination, goodness & gratitude and quality & design drives every decision we make. It's why all of the products we offer encompass a combination (or all!) of these traits.
So what does all of this mean? And why should we care?
It means every time we give a gift to someone special, we have a choice to make. We can choose quick, we can choose easy, we can choose cheap — and suffer the consequences that come along with those choices.
Or.
We can choose a better way.
We can choose thought-full gifts, quality gifts, gifts that come from the heart, gifts that make us think... We can choose gifts that inspire, create, & promote wonder.
Because the people special to us deserve nothing less (and if we're being honest, it might be a tiny opportunity to become better versions of ourselves one gift giving decision at a time).
 Stay wonder-full,
carrie