Silicone Bear Cake Mould | Blue Dusk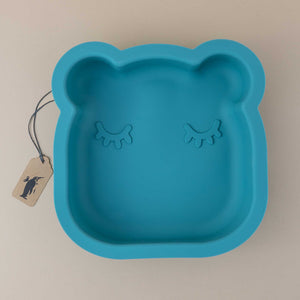 What if kid-impressing cakes could be as easy as grabbing all the ingredients? With this flexible Silicone Bear Cake Mold, cakes worthy of a round of applause no longer have to
…

Description
Dimensions
Safety & Care
Description
What if kid-impressing cakes could be as easy as grabbing all the ingredients? With this flexible Silicone Bear Cake Mold, cakes worthy of a round of applause no longer have to come with minor panic attacks and hours of shaping, decorating or cursing. You can become the hero of every birthday party or lazy Sunday afternoon at home with bullet-proof, cute-as-a-button cakes that easily slide out of the mould without getting stuck. Whether you're tackling a single-layered cake or a multi-story creation, you'll win over tiny hearts with the cute bear-shaped outline and the iconic sleepy-eye imprint no matter what.
And once you've soaked up everyone's praises, simply pop your secret-weapon (aka your cake mold) into the dishwasher ready for your next low-fuss, applause-inducing kitchen adventure.
And it's not just for baking. Use this non-toxic silicone mold to make cute ice cream cakes, fun jelly creations or bear-shaped savoury pies. This cake mold is microwave, oven and freezer-safe (-40°C to 230°C), and that means the sky's the limit.
Dimensions
Silicone Bear Cake Mould | Blue Dusk measures 8.75" L x 8.5" W x 2.25" H
Safety & Care
- Silicone Bear Cake Mould | Blue Dusk is made from non-toxic, food-grade silicone independently certified to the highest Europe (FDA and LFGB approved)
- BPA free
- Microwave, oven and freezer safe (-40°C to 230°C)
- Dishwasher-safe