Silicone Baking Rainbow | Blue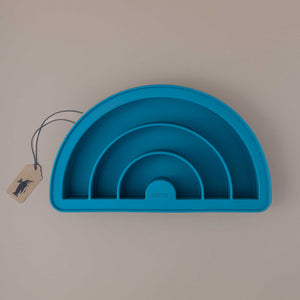 This Silicone Baking Rainbow | Blue gives you the opportunity to share special moments in the kitchen cooking together with your little one. Prepare a beautiful dessert 
…

Description
Dimensions
Safety & Care
Description
This Silicone Baking Rainbow | Blue gives you the opportunity to share special moments in the kitchen cooking together with your little one. Prepare a beautiful dessert with your little one in one of these easy to clean molds and impress friends and family with your baking skills.
This baking mold is made of platinum silicone, a soft, resistant material, BPA free and 100% safe. It is the ideal material for making molds and products for contact with food. Products made of platinum silicone are cold and heat resistant from -75ºF to 425ºF. They are microwave, oven, dishwasher, refrigerator and freezer safe. In addition to being easy to clean, they also repel water and germs that provides maximum hygiene and food safety.
Dimensions
Silicone Baking Rainbow | Blue measures 12.5" L x 7.75" W x 1.5" H
Safety & Care
- Recommended for all ages.
-Silicone Baking Rainbow | Blue is made from 100% Platinum Silicone, free from BPA, PVC, latex, and phthalates
- Microwave, oven, dishwasher, refrigerator and freezer safe