Isabelle Bunny | Pink Dress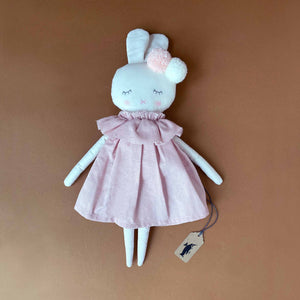 Isabelle Bunny looks very stylish in her pink linen dress with a ruffled collar. Her look is completed with a sweetly embroidered face and pink and white pompoms at her ears
…

Description
Dimensions
Safety & Care
Description
Isabelle Bunny looks very stylish in her pink linen dress with a ruffled collar. Her look is completed with a sweetly embroidered face and pink and white pompoms at her ears. Don't let her sleepy face fool you, she is just as ready for a fancy party as she is for nap time.
Dimensions
Isabelle Bunny | Pink Dress measures 15" L x 6" W x 2" H
Safety & Care
- Recommended for ages 3+
- CHOKING HAZARD: Small parts, not suitable for children under 3 years old.
- Isabelle Bunny is made of cotton with poly fill.
- Spot clean as needed.