Pencil Terrarium | Fireflies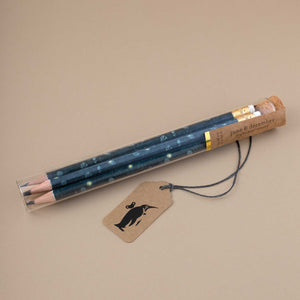 Created with the environment in mind, this Pencil Terrarium | Fireflies was designed to make the packaging as functional as the pencils inside. Each set includes five (5) patterned
…

Description
More to the Story
Dimensions
Safety & Care
Description
Created with the environment in mind, this Pencil Terrarium | Fireflies was designed to make the packaging as functional as the pencils inside. Each set includes five (5) patterned pencils, and comes in a variety of themes inspired by nature, this one being fireflies lighting up the sky. Turn the glass tube into a dreamy tiny terrarium, encapsulate nature, use as a vase, or for propagating your plant pretties.
More to the Story
June & December was founded with an adventurous spirit and the idea that the most memorable gifts have a meaningful story to tell. Named after the months the founders' children were born, they believe they are storytellers at heart, and strive to have their products do the talking. Whether one of their goods remind you of a recent nature hike, a memorable dinner, a color on a cool spring day, or a fond childhood memory, we hope their stories connect with yours in a soulful way as we celebrate many of the shared moments that bring people together.
Dimensions
These pencils come in a glass vase that measures 8" L x 1" W.
Safety & Care
The vase is made of glass and comes with sharpened number 2 pencils.