Paper Print | Dream Within a Dream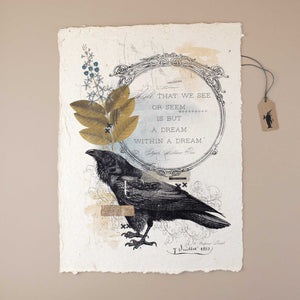 "All that we see or seem is but a dream within a dream." - Edgar Allan Poe
This gorgeous handmade natural (tree-free) paper print, complete with deckle edges, was made with love and respect for the earth by the Ramsey Family: modern day bohemians sharing their 
…

Description
"All that we see or seem is but a dream within a dream." - Edgar Allan Poe
This gorgeous handmade natural (tree-free) paper print, complete with deckle edges, was made with love and respect for the earth by the Ramsey Family: modern day bohemians sharing their hearts, lives and imaginations through their artwork.
Inspired by nature (and their imaginations), the various Ramsey family members' combine their own personal artwork and photography with that of vintage art, images and typography to create a truly beautiful - and inspirational - one-of-a-kind style that begs to be showcased and shared.
Using eco-friendly materials sourced from various small businesses throughout the US, the entire print making process, from design and printing to distressing and finishing is completed entirely by the Ramseys from their log cabin studios built 12 feet up in the trees overlooking the Brazos River.
Dimensions
Paper Print | Dream Within a Dream measures 16" L x 12" W