Organic Cotton Green Apple Rattle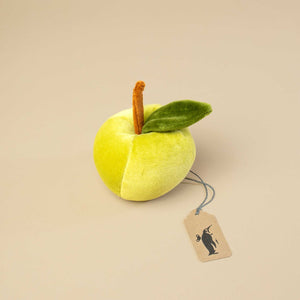 This gorgeous natural Green Apple Rattle is as fuctional as it is beautiful. In addition to its beauty, it's made using 100% natural materials including GOTS certified organic cotton and Kapok fiber, an eco-friendly
…

Description
More to the Story
Dimensions
Safety & Care
Description
This gorgeous natural Beetroot Rattle is as fuctional as it is beautiful. In addition to its beauty, it's made using 100% natural materials including GOTS certified organic cotton and Kapok fiber, an eco-friendly alternative to polyester fiber fill - which means it's not only good for you, but good for your little one, and good for our planet as well. 
This Green Apple Rattle features a juicy green, velvety-soft plush body, an amber stem, and a forrest green floppy leaf. The rattle creates a gentle, muffled jangle, ideal for quiet self-soothing.
More to the Story
Coocoonari started in 2019 when its founders, a married couple, had twin girls. The little ones were diagnosed with extremely sensitive skin that was easily irritated by the harsh materials and chemicals found in many children's products. Unable to find a natural alternative, the founders tried their hand at making their own teethers and soft toys. The change in their little ones' skin was spectacular, and the success motivated them to find the highest quality hypo-allergenic materials possible.
To guarantee that the materials are organic, CooCoonari uses cotton certified by GOTS (Global Organic Textile Standard) and OCS (Organic Content Standard). The GOTS certification ensures that a minimum of 70% of fibres are organically constructed in a toxic-free working environment, and the OCS ensures that 100% of fibres are organic. Coocoonari rattles and toys are mainly created from organic cotton, maple wood and Kapok fiber, an eco-friendly alternative to polyester fiber fill. This makes the soft toys unique with 100% natural materials carefully chosen.
Dimensions

Organic Cotton Green Apple Rattle measures 4" L x 3.5" W x 3.5" H

Safety & Care

- Organic Cotton Green Apple Rattle is made of organic cotton with Kapok fiber fill and interior wooden rattle
- Spot clean recommended, gentle hand wash with mild detergent if required; line dry.