Les Schmouks Pidou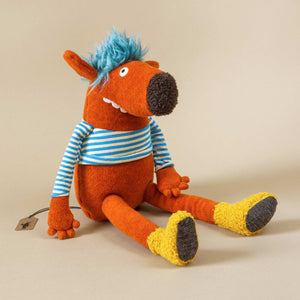 Les Schmouks Pidou is a friendly dog with a huge smile, big eyes and a charmingly funky hair style. Made of huggable orange fleece, he comes dressed in a blue striped t-shirt 
…

Description
Dimensions
Safety & Care
Description
Les Schmouks Pidou is a friendly dog with a huge smile, big eyes and a charmingly funky hair style. Made of huggable orange fleece, he comes dressed in a blue striped t-shirt and yellow boots. This unique pup will make a wonderful friend for children of all ages.
Dimensions
Les Schmouks Pidou measures 18" L x 6" W x 7" H
Safety & Care
- Recommended for ages 10 Months +
- Hand wash cold as needed; air dry.