Fishiful | Pink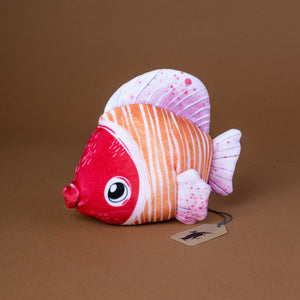 Fishiful Pink is your new underwater-friend, wearing colorful print from head to tail. Check out those punky fins, bright sorbet speckles, bold stripes and
…

Description
Dimensions
Safety & Care
Description
Fishiful Pink is your new underwater-friend, wearing colorful print from head to tail. Check out those punky fins, bright sorbet speckles, bold stripes and raspberry-pink cheeks. It looks like Fishiful Pink is blowing a kiss. With printed wide eyes, super stretchy fabric, and a soft beany middle. 
Dimensions
Fishiful | Pink measures 7" L x 4.75" W x 6" H
Safety & Care
- Recommended for newborn+
- Hand wash only; do not tumble dry, dry clean or iron.
- Not recommended to clean in a washing machine.