Festive Folly Ornament | Christmas Tree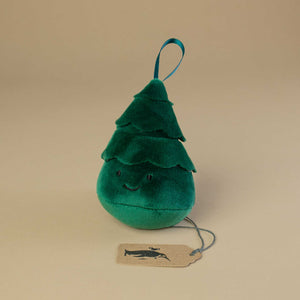 Festive Folly Christmas Tree is a seriously squishy scamp. With yummy green fur, scalloped skirts, a squat beany base and a shimmering gold star

…

Description
Dimensions
Safety & Care
Description

Festive Folly Christmas Tree is a seriously squishy scamp. With yummy green fur, scalloped skirts, a squat beany base and a shimmering gold star, this conifer is growing strong. A delightful table decoration with a forest of wonderful stories to share.

Dimensions

Festive Folly Christmas Tree measures 2.5" L x 2.5" W x 4.25" H

Safety & Care

- Recommended for newborn+
- Hand wash only; do not tumble dry, dry clean or iron. Not recommended to clean in washing machine.