Felted White Rabbit Ornament | Ochre Overalls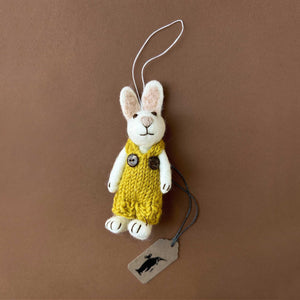 This charming Felted White Rabbit Ornament | Ochre Overalls will bring delight into your home this Easter and many many more. Each bunny was thoughtfully made by hand
…

Description
More to the story
About Fair Trade
Dimensions
Safety & Care
Description

This charming Felted White Rabbit Ornament | Ochre Overalls will bring delight into your home this Easter and many many more. Each bunny was thoughtfully made by hand in Nepal using Fair Trade wool from New Zealand. This Felted White Rabbit Ornament | Ochre Overalls is more than just an Easter decoration - it's your new family treasure that can be passed down to next generations.
This product was handmade, so there is only "one" of each and small differences within each product. It is all made in Nepal and made of pure natural wool from New Zealand.

More to the story

Each item is handmade of 100% wool from New Zealand through the ancient technique of felt making. By adding warm soapy water to wool and then pressing and rubbing, the fibers will tighten into a felted textile material. Gradually, as the fibers are tightening together, the items are shaped into their final form - flower, heart, bird, etc. Once it is dried, it is ready for its final embellishments. 

About Fair Trade

These products are 100% Fair Trade certified by the World Fair Trade Organization and made by skilled Nepalese women. To become fair trade certified, there are ten principles that must be met:

- Create opportunities for economically disadvantaged producers.
- Transparent and accountable

- Trade on Fair Trade conditions
- Pay a fair price
- Ensure that child labor does not occur.
- Do not to discriminate
- Ensure good working conditions
- Ensure the development and qualification of suppliers.
- Promote the Fair Trade message
- Show respect for the environment in production

Dimensions

Felted White Rabbit Ornament | Ochre Overalls measures 1.5" L x 2.5" W x 5" H


Safety & Care

- Recommended for ages 3+

- CHOKING HAZARD: Small parts, not suitable for children under 3 years old.
- Felted White Rabbit Ornament | Ochre Overalls is handmade of 100% wool from New Zealand
- Made in Nepal
- Certified 100% Fair Trade by the World Fair Trade Organization