Felt Floral Bouquet | Magnolia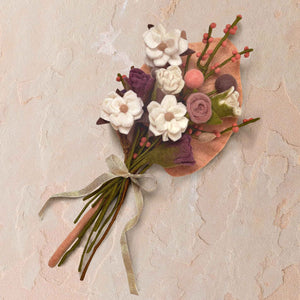 This exclusive Felt Floral Bouquet is a beautiful way to gift a bit of everlasting nature to someone special – including yourself! With flowers made in Nepal from 100% New Zealand wool, is a beautiful way to gift a
…

Description
Dimensions
Safety & Care
Description
This exclusive Felt Floral Bouquet, with flowers made in Nepal from 100% New Zealand wool, is a beautiful way to gift a bit of everlasting nature to someone special – including yourself! Whatever the occasion or season, this unique forever bouquet will bloom all year long.
About the Felt Flowers: Each felt flower is handmade of 100% New Zealand wool in Nepal through Fair Trade Practices using the ancient technique of felt making. By adding warm soapy water to wool and then pressing & rubbing, the fibers tighten into a felted textile material. Gradually, as the fibers tighten together, the items are shaped into their final form – in this case, a flower, leaf and/or stem. Once dried, the flowers are ready for their final embellishments. 
Dimensions
Felt Floral Bouquet | Magnolia measures approximately " L x " W x " H
Safety & Care
- Recommended for ages 3+
- CHOKING HAZARD: Small parts, not suitable for children under 3 years old.
- Felt Flowers are handmade in Nepal from New Zealand wool 
- Certified 100% Fair Trade by the World Fair Trade Organization.