Diving Rabbit Greeting Card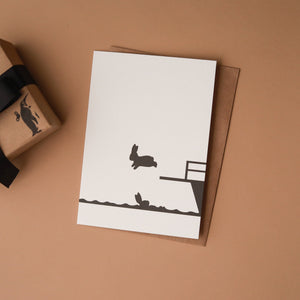 Send a thoughtful note for any occasion with this Diving Rabbit Greeting Card. A British made luxury greeting card, it is printed on thick matte paper, blank inside and comes with a
…

Description
Dimensions
Safety & Care
Description
Send a thoughtful note for any occasion with this Diving Rabbit Greeting Card. A British made luxury greeting card, it is printed on thick matte paper, blank inside and comes with a brown kraft envelope.
A lot of time has been spent carefully selecting the matte textured stock and each card is meticulous crafted by printing specialists in Kent, England. All the papers are FSC approved.
Size: 7 x 5 inches.
Dimensions
Dimensions: 7 in. x 5 in.
Safety & Care
Made with matte paper and black ink.