Day Dreamer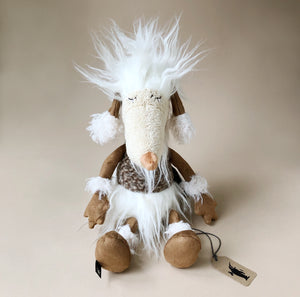 Day Dreamer is an elegant lady who you can most likely find in the hair salon. However, you do have to be careful, she can become the biggest party animal at bedtime. She is
…

Description
Dimensions
Safety & Care
Description
Day Dreamer is an elegant lady who you can most likely find in the hair salon. However, you do have to be careful, she can become the biggest party animal at bedtime. She is sassy but sweet and a great friend to have tea parties with. Day Dreamer is machine washable but make sure not to mess up her hair while you wash her; she is very particular about her hairdo.
Dimensions
Day Dreamer measures 5" L x 4" W x 10" H.
Safety & Care
- Recommended for ages 3+
- CHOKING HAZARD: Small parts, not suitable for children under 3 years old
- Day Dreamer is made of cotton plush with polyester fill.
- Machine washable in cold cycle; air dry.