Bumble Bee Wings Costume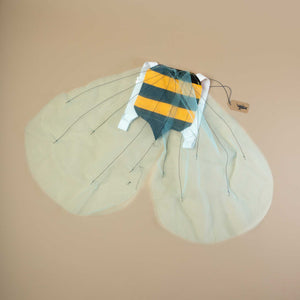 Bzz bzz bzz go the translucent bee wings that adorn this Bumblebee Costume for kids and toddlers alike. A baby bee will hop from flower to flower in delight and spend hours immersed

…

Description
Dimensions
Safety & Care
Description
Bzz bzz bzz go the translucent bee wings that adorn this Bumblebee Costume for kids and toddlers alike. A baby bee will hop from flower to flower in delight and spend hours immersed in imaginative play.
The perfect addition to any dress up closet, our Bumble Bee Wings are made with the finest quality materials for everyday play. They feature tulle wings, a canvas halter, and felt "stinger".
The extra-wide elastic straps on these wings will ensure comfort and stay put on little shoulders flexible to grow with your child and elastic wrist straps allow for movement during play. Makes a perfect costume or pretend play gift for any little bug that sparks open-ended imaginary play. One size fits most children ages 2-10 years
Dimensions
Bumble Bee Wings Costume measures 18" L x 17" W.
Safety & Care
- Recommended for ages 2+
- Bumble Bee Wings Costume is made of Cotton Canvas
- Spot treat only. Lay flat to dry. 
- Made in the USA