Brave Hair Lion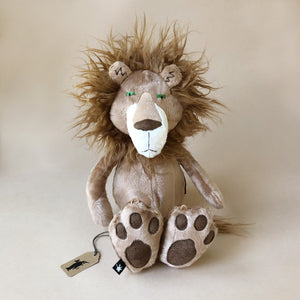 True style manifests in the details. Apart from Brave Hair Lion's terrific mane with that meticulously crafted "undone" look, this fabulous plush lion wows his admirers with naturalistic coat
…

Description
Dimensions
Safety & Care
Description
True style manifests in the details. Apart from Brave Hair Lion's terrific mane with that meticulously crafted "undone" look, this fabulous plush lion wows his admirers with naturalistic coat coloring, comically oversized paws, and that nothing-can-faze-me facial expression. The king of town is admired by all, but especially by anyone who has a penchant for the truly iconic.
Dimensions
Brave Hair Lion measures 6" L x 6.75" W x 17" H
Safety & Care
- Recommended for ages 3+
- CHOKING HAZARD: Small parts, not suitable for children under 3 years old
- Brave Hair Lion is made of cotton plush with polyester fill.
- Machine washable in cold cycle; air dry.