Boxed Note Card Set | So Much Gratitude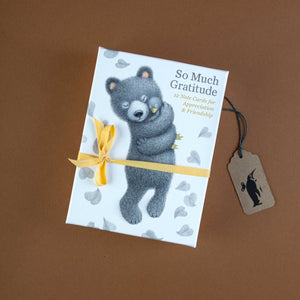 These heartfelt note cards demonstrate and celebrate gratefulness for people in our lives. Inspired by the adorable bear cub and
…

Description
These heartfelt note cards demonstrate and celebrate gratefulness for people in our lives. Inspired by the adorable bear cub and duckling characters of the bestselling books Finding Muchness and Feeling Grateful, each card pairs a delightful illustration with a sweet interior sentiment filled with gratitude: 
Kindness builds on kindness. Thank you for being you. 
 
Having a friend is the best feeling. 
 
Life is full of wonderful things, and you are among them. 
 
Thank you for putting so much goodness into the world.
Share these heartwarming cards to celebrate a friendship or shower a loved one with appreciation. The thoughtful statements, written by Kobi Yamada, make the cards easy to give.
The set includes 12 cards total, 3 each of 4 designs, and features illustrations from award-winning artist Charles Santoso, plus printed envelopes.
Dimensions
So Much Gratitude Card set is 5.7" L x 4.2" W x .9" H.  Each card measures 5" L x 3.5" W.