Blackwing Handheld Eraser with Holder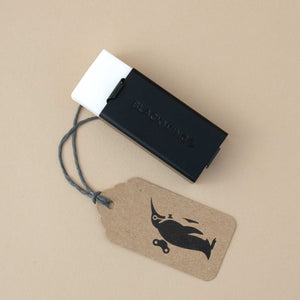 This Blackwing Handheld Eraser with Holder takes the iconic design of their eraser clip and adapted it into a sleek handheld form that feels great to use. The eraser is made of a special soft
…

Description
More to the Story
Dimensions
Safety & Care
Description
This Blackwing Handheld Eraser with Holder takes the iconic design of their eraser clip and adapted it into a sleek handheld form that feels great to use. The eraser is made of a special soft material that erases the dark lines of Blackwing's graphite cleanly and easily. The holder is made of durable aluminum that lets you get a solid grip while erasing. It also includes a jumbo-sized version of the iconic Blackwing clip, so you can extend the eraser as you use it.
More to the Story
Blackwing's roots date back to the 1930's when the 602 model was first introduced by the Eberhard Faber Pencil Company. Over the years, the pencil with the unique rectangular eraser became synonymous with quality. Then, in 1998, after several corporate acquisitions, it was discontinued, but not forgotten. In fact, fans began paying as much as $40 on eBay for a single Blackwing pencil.
Artists soon noticed that Palomino's range of premium pencils compared favorably to the Blackwing 602. They began asking Palomino to consider reviving the Blackwing brand, complete with its defining rectangular eraser. Palomino founder Charles Berolzheimer, whose family's roots in the pencil industry date back to the mid 19th century, used the company's unique supply relationships to re-introduce Blackwing pencils in 2010 featuring California Genuine Incense-cedar and premium Japanese graphite. The pencil has drawn rave reviews from users and national media attention.
In the last few years, Blackwing has grown from a single pencil into a culture. It's a culture that encourages and empowers creativity in all forms, especially in our nation's schools. In fact, a percentage of every Blackwing product sold benefits music and arts education at the K-12 level.
Dimensions
Blackwing Handheld Eraser with Holder measures 2.75" L x 1.25" W x 0.75" H
Safety & Care
- Recommended for ages 10+
- CHOKING HAZARD: Small parts, not suitable for children under 3 years old
- Blackwing Handheld Eraser Holder is made of aluminum