Birdling Goldfinch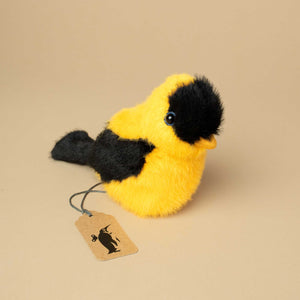 Perched on a branch looking very pleased, it's brilliant Birdling Goldfinch. This bonny bird is a garden favorite, in sunshine-yellow and inky-black plumage. Plump and
…

Description
Dimensions
Safety & Care
Description
Perched on a branch looking very pleased, it's brilliant Birdling Goldfinch. This bonny bird is a garden favorite, in sunshine-yellow and inky-black plumage. Plump and proud, with bright eyes, a suede-like beak and a fine silky tail, this sassy goldfinch knows they look splendid.
Dimensions
Birdling Goldfinch measures 6" L x 3" W x 4.5" H
Safety & Care
- Recommended for newborn +
- Hand wash only; do not tumble dry, dry clean or iron. Not recommended to clean in a washing machine.