Bamboo Nesting Bird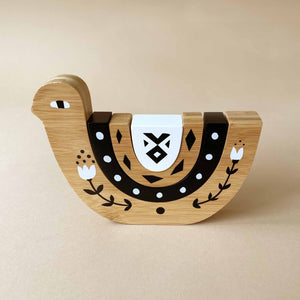 This adorable Nesting Bird is made from sustainable eco-friendly bamboo. Nestable, stackable, sturdy pieces make for lots of fun opportunities for creative play
…

Description
Dimensions
Safety & Care
Description
This adorable Nesting Bird is made from sustainable eco-friendly bamboo. Nestable, stackable, sturdy pieces make for lots of fun opportunities for creative play, motor skill practice and problem solving. Each bird comes with its own printed cotton bag for easy storage and gifting perfection. 
Dimensions
The Bamboo Nesting Bird measures 7" L x 5" W x 1" H
Safety & Care
- Recommended for ages 18 months+
- Nesting Bird is made from sustainably sourced bamboo.
- Wiple clean with damp cloth.