Bamboo Magnifying Glass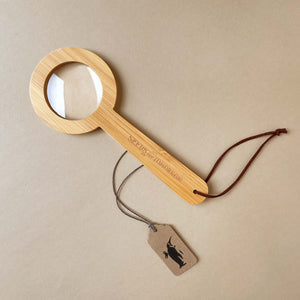 For all the insect spotting, bug discovering and garden adventures, this Bamboo Magnifying Glass is a perfect fit for little hands and curious hearts. Made with sustainable bamboo
…

Description
Dimensions
Safety & Care
Description
For all the insect spotting, bug discovering and garden adventures, this Bamboo Magnifying Glass is a perfect fit for little hands and curious hearts. Made with sustainable bamboo and including a leather strap for safe keeping, it magnifies 4X for inquisitive minds to get up close and personal with all sorts of tiny creatures and plants.
Dimensions
Bamboo Magnifying Glass measures 8" L x 3.25" W x 0.25" H
Safety & Care
- Recommended for ages 3+
- Bamboo Magnifying Glass is made of sustainable bamboo with a leather strap
- Wipe clean as needed.