Amuseable Toast | Medium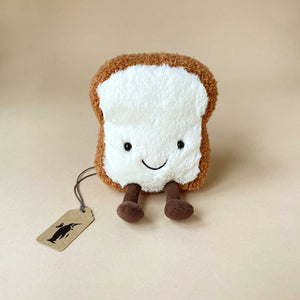 Popping up near you is Amuseable Toast. Adorable goofy, this squishable friend loves to loaf around. Freshly baked with a fluffy white tummy and golden-brown
…

Description
Dimensions
Safety & Care
Description
Popping up near you is Amuseable Toast. Adorable goofy, this squishable friend loves to loaf around. Freshly baked with a fluffy white tummy and golden-brown crust. A good buddy for breakfast to start your day off with a smile.
Dimensions
This Amuseable Toast measures 9" L x 7" W x 3.5" H.
Safety & Care
- Suitable from birth.
- Hand wash only; do not tumble dry, dry clean or iron. Not recommended to clean in a washing machine.