Amuseable Mistletoe | Cream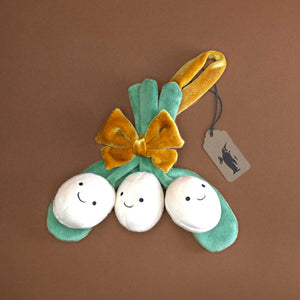 Amuseable Mistletoe brings a whimsical touch to a fesive home. With their smiling faces and bright green leaves…
…

Description
Dimensions
Safety & Care
Description
Amuseable Mistletoe brings a whimsical touch to a festive home. With their smiling faces and bright green leaves, they are a delightful addition to holiday decorations.
Dimensions
Amuseable Mistletoe measures 8.5" L x 8" W x 1.75" H
Safety & Care
- Recommended for ages newborn +
- Hand wash only; do not tumble dry, dry clean or iron. Not recommended to clean in a washing machine.