Amuseable Marshmallows | Pink & White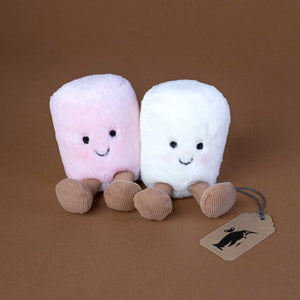 Trouble comes in twos. Amuseable Pink and White Marshmallows have a lot in common, like praline cord boots, stitchy smiles and rosy blushes. Linked with a pink
…

Description
Dimensions
Safety & Care
Description
Trouble comes in twos. Amuseable Pink and White Marshmallows have a lot in common, like praline cord boots, stitchy smiles and rosy blushes. Linked with a pink satin ribbon, these cheeky mallows are friends for life.
Dimensions
Amuseable Marshmallows Pink and White measures 3" L x 5" W x 3" H.
Safety & Care
- Recommended for newborn+
- Cold wash only; do not tumble dry, dry clean or iron.