Week 01 of Camp manuliVille - FRIENDSHIP WEEK
The first week of Camp manuliVille focused on friendship. Find all five days of activities below! CLICK HERE to return to the main Camp page. Wishing you a week of exploring and adventures - don't forget to share your creations with us here.


"Friendship is the golden thread that ties the heart of all the world."
— John Evelyn
Welcome to Friendship Week at Camp manuliVille!
This week (and every week!) we encourage you to reach out to your nearest and dearest friends (and family) and let them know how much they mean to you.
YOUR CAMP PROJECTS FOR TODAY:

1/ CREATE A FRIENDSHIP BRACELET
Do you have a plastic bag laying around? How about a pencil and a pair of scissors? Turn these everyday items into a beautiful bracelet with the instructions, below. Make one for you and one for your bestie.
MIYO - Don't have bags in colors you like? Feeling like a pattern would work well? Make it your own with other materials like fabrics or ribbons or anything else that inspires you!

2/ SET THE STAGE
Grab your friends and put on a show. A simple sheet works for a curtain and recycled cardboard makes great sets and props. Adults and kids, alike, can all participate.

3/ SPEND TIME TOGETHER!
Whether it be a walk in nature, a shared meal, or a day filled with games & imaginative play, take time to be together. If you've just finished up your show, go have a picnic. If your bestie doesn't live close, hop on facetime or zoom, or send them a letter (and the frienship bracelet you just made)! Friendships soothe the soul and need to be nurtured in order to grow.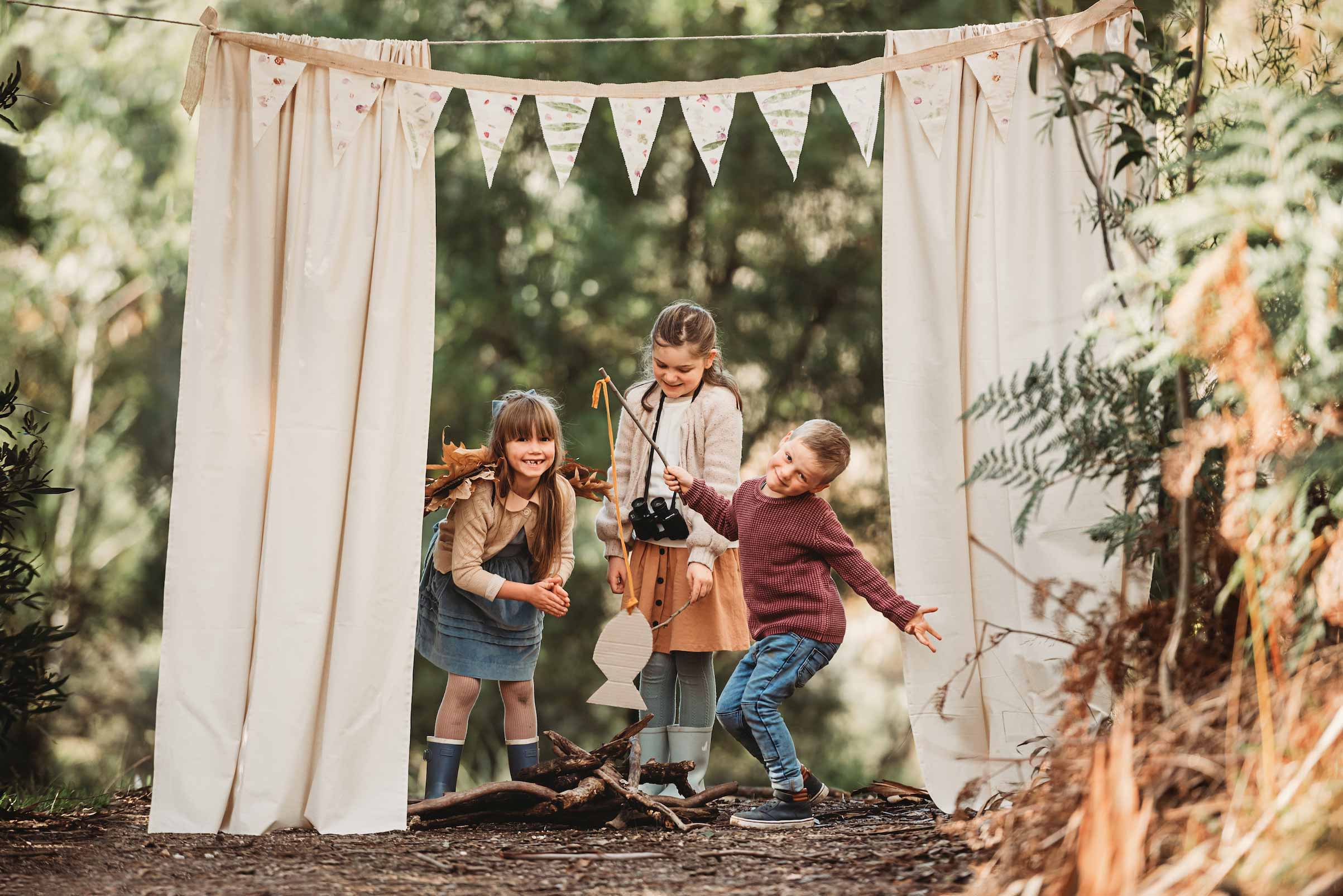 Make Your Own Upcycled Friendship Bracelet

Grab Your Materials:
For the bracelet you'll need a plastic bag (one bag or different colors if you would like), a pencil, scissors, and a piece of tape.
Let's Make It:
Follow along with the video instructions below.
Note, these are so fun and easy to make, once you get the hang of it you'll want to make more :)
"A boat doesn't go forward if each one is rowing their own way."
— Swahili Proverb
Today is all about teamwork!
Grab a friend, and let's play. We know collaboration not only brings people together but also ideas to life. Let's take the day to create, make and play together.
YOUR CAMP PROJECTS FOR TODAY:
1/ MAKE YOUR OWN HOPSCOTCH
Head on outside on a stick-finding adventure, then use these sticks to create your own hopscotch course. Grab a rock or small object to toss into a square and challenge each other to do better each time you go!
2/ CREATE YOUR OWN OBSTACLE COURSE
One of our favorite pastimes is making obstacle courses. This is great for any number of friends. Decide on 3-5 challenges, set them up and time yourself. Each time you run through the course, work together to try to improve your time. A few of our favorite ideas are below, but you can MIYO with any materials you have!
Jump Rope Station: do 25 jumps before moving on
Ball Toss: set up some buckets & toss a ball into each before moving on
Balloon Bridge: string a few balloons between two chairs and crawl under the "bridge" without touching a balloon to move on
Hula Hoop Trail: set hoops a few feet apart and jump through them before you move on
Cone Weave: set up cones or toys or markers of any kind and run back-and-forth through them to move on

3/ PLAY (AND REIMAGINE) A GAME
Pull out a puzzle, your favorite game or deck of cards & let's get playing. Work together to finish and celebrate everyone's wins! Can you MIYO and work together to create a brand new game using existing (and new!) pieces from the game? Need something new? Some of our favorites are below!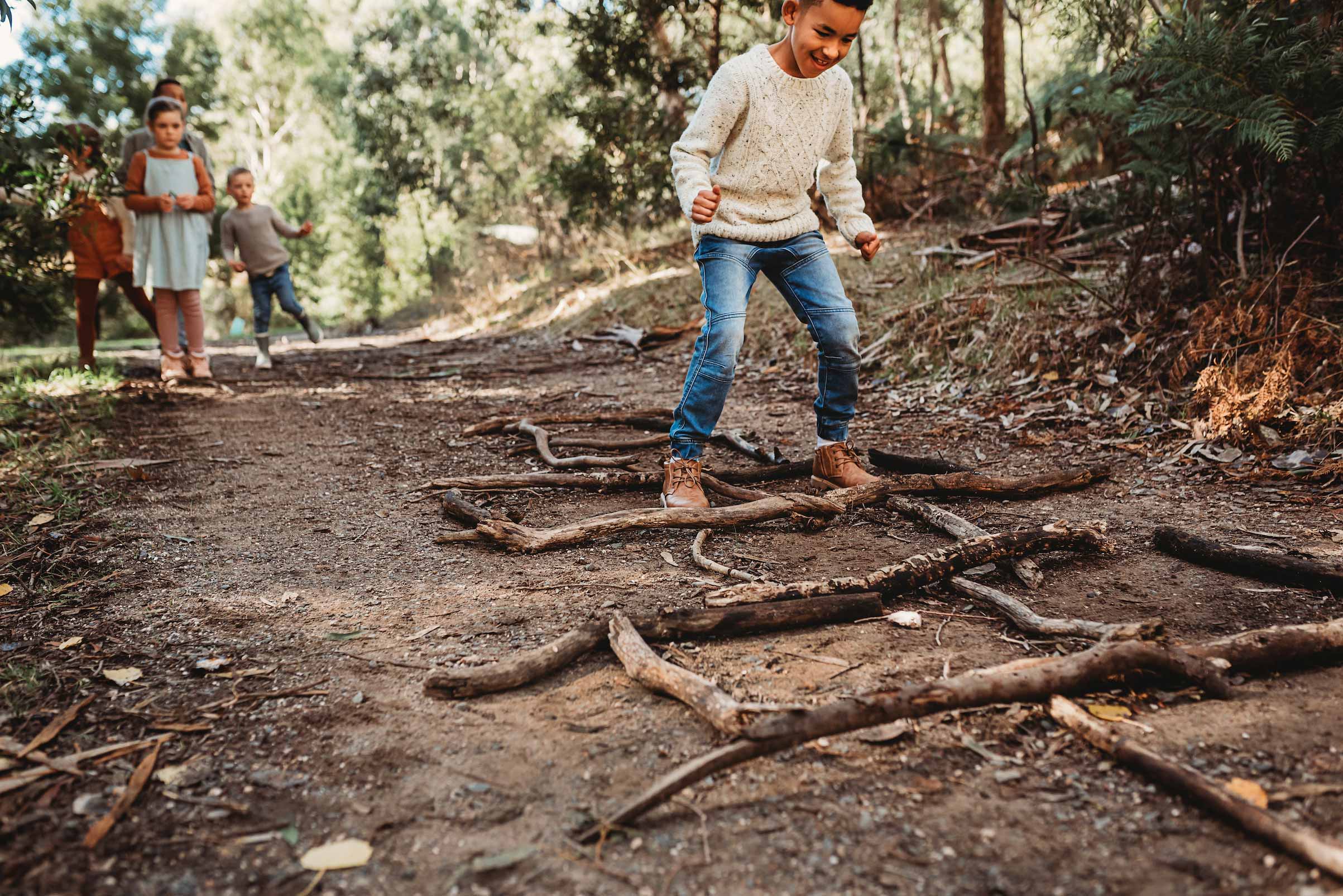 A few of our friend-worthy favorites available to pick-up or ship

"A good book is like a good friend. It will stay with you for the rest of your life."
— Charlie Lovett
Calling all bookworms, today is about finding a good book, a quiet spot, and a dear friend to read alongside. Let's get going! 
YOUR CAMP PROJECTS FOR TODAY:
1/ MAKE YOUR OWN BOOKMARK
Grab a sheet of paper, a ribbon (or the like) and a little bit of glue stick to make our special manuliVille bookmark. All the instructions are below.
MIYO - Cut and color a bookmark from any material you have, Our template bookmark is 6" tall x 2" wide, but you can make yours any shape and size you want.

2/ MAKE YOUR OWN LIBRARY CARDS
Grab an index card or small piece of paper and draw your own library cards. Give your library a name, and add lines for checking out and checking in books. Share these cards with friends and create a lending library from your own collection. If you have rubber stamps at home, give a nod to old school libraries and stamp and date when the books are "checked out" on the back of your cards.

3/ GET LOST IN A BOOK
Find a good book and read together. Once you finish, swap books with your friend. Share your favorite parts of each book with each other. MIYO by inventing new stories inspired by what you read. Need a good book suggestion? We're sharing our favorites, below!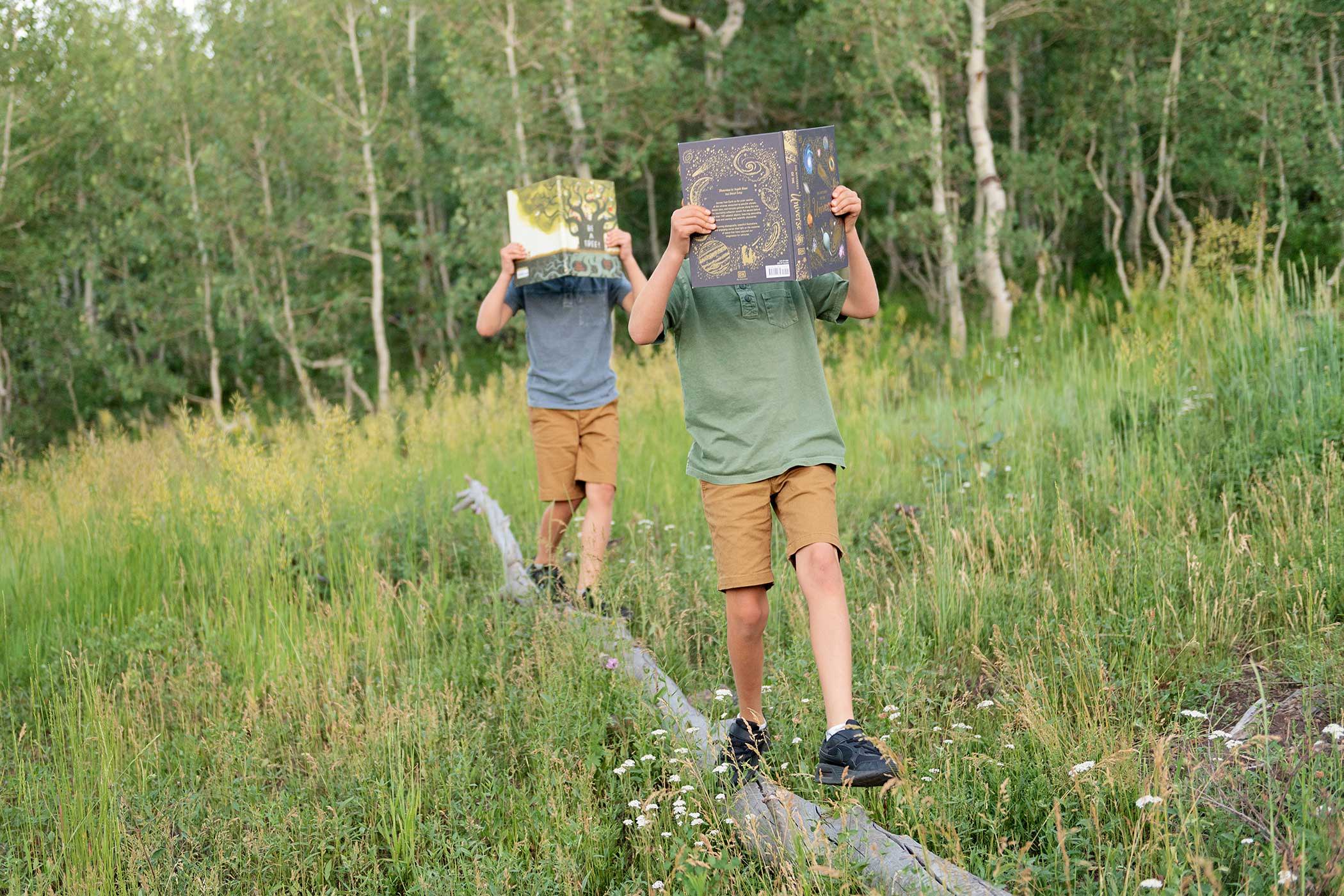 Grab Your Materials:
For the bookmark you'll need to download our template (below), scissors, glue stick, hole punch, and any ribbon you have on hand.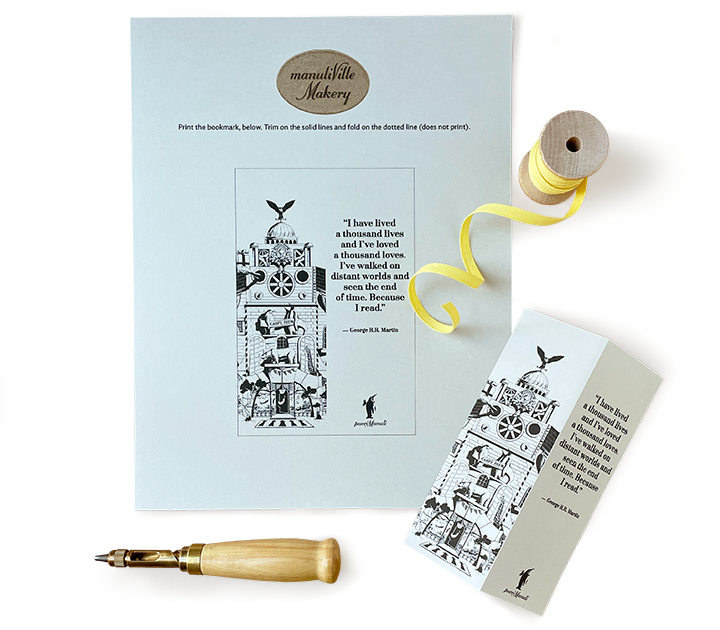 A few of our friend-worthy favorites available to pick-up or ship

"Children see magic because they look for it."
— Christopher Moore
Are you ready for a day of magical thinking?
Today we're going to create some friends and a magical world for them to live in.
YOUR CAMP PROJECTS FOR TODAY:
1/ CREATE A FRIEND
Grab a stick, a leaf, a toilet paper roll, a bottle from your recycling, or anything that you can envision bringing to life. Using marker or paint add a face, accessories, and give your friend a name. See below for some more ideas. MIYO - use any found objects you have to create your little friends!

2/ CREATE A WORLD
After you make your little friends, let's create a little world for them to live in. This could be your backyard, a special spot in your house, or anywhere you have space to dream. Try making a small house for your friends with twigs and leaves. Or, if you have blocks, make a little city. Bring along a real-life friend and play together. See below for some inspiration!

3/ DRAW A MAP
You've got your friends and your houses, now let's name your community and draw a little map of your area. Paper, pencils, crayons, anything can be used here to portray your community. At pucciManuli, our community of kindness and wonder is called manuliVille. Take a look at our map, below, and get inspired!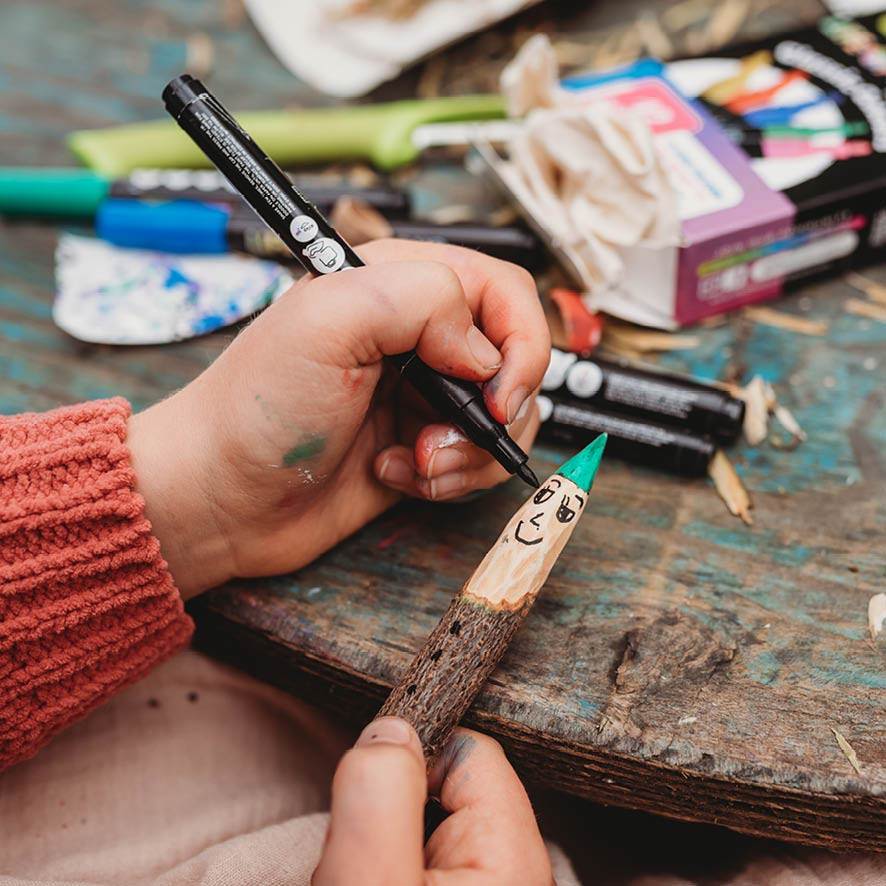 "How do we change the world? One random act of kindness at a time."
— Morgan Freeman
Happy Friday (or whatever day you're working on this project!). Today is good day to celebrate the kindness of friends and loved ones, and we invite you to join us on a kindness parade!
YOUR CAMP PROJECTS FOR TODAY:
1/ MAKE A KINDNESS CATCHER
Use our template and video, below, to create your very own kindness catcher. Each section can be customized by you. MIYO - use your own paper (it just has to be square) and draw, color, and/or write your own messages for a uniquely-you catcher

2/ MAKE & SHARE KINDNESS ROCKS
Brighten your day (and someone else's day at the same time)! Grab some rocks (truly any rocks you can find), and decorate them with markers or paint messages and/or pictures on them. When they dry, hide your rocks throughout your community to bring a smile to someone who finds it and to inspire them to pass it on.

3/ SPREAD KINDNESS EVERYWHERE!
There are so many ways to show kindness every single day. One of our favorite ways is to share things we love. Do you have a favorite book to pass along, how about a favorite recipe you like to make? Make, give, and share with your friends and neighbors. Find more inspiration in our prompts and products, below, and take the afternoon to brighten up someone's day with your very own random act of kindness.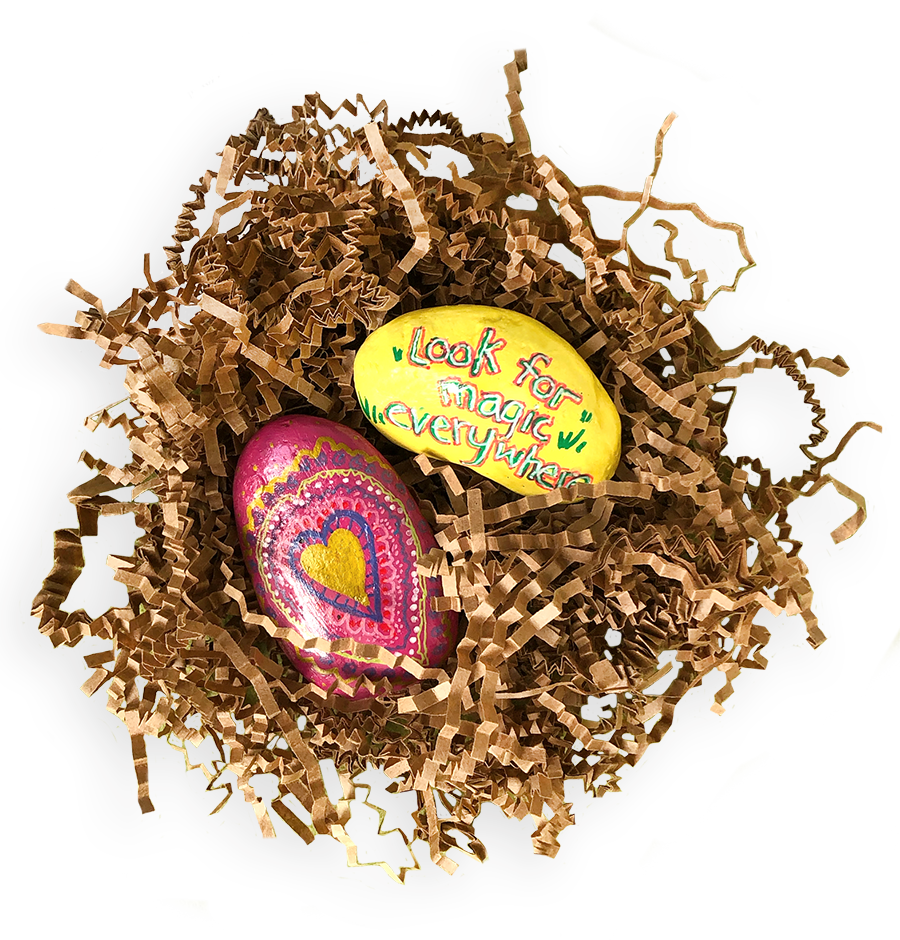 Make your own Kindness Catcher

Grab Your Materials:
You will need to print out the template, below, and grab a pair of scissors. Yep, that's it!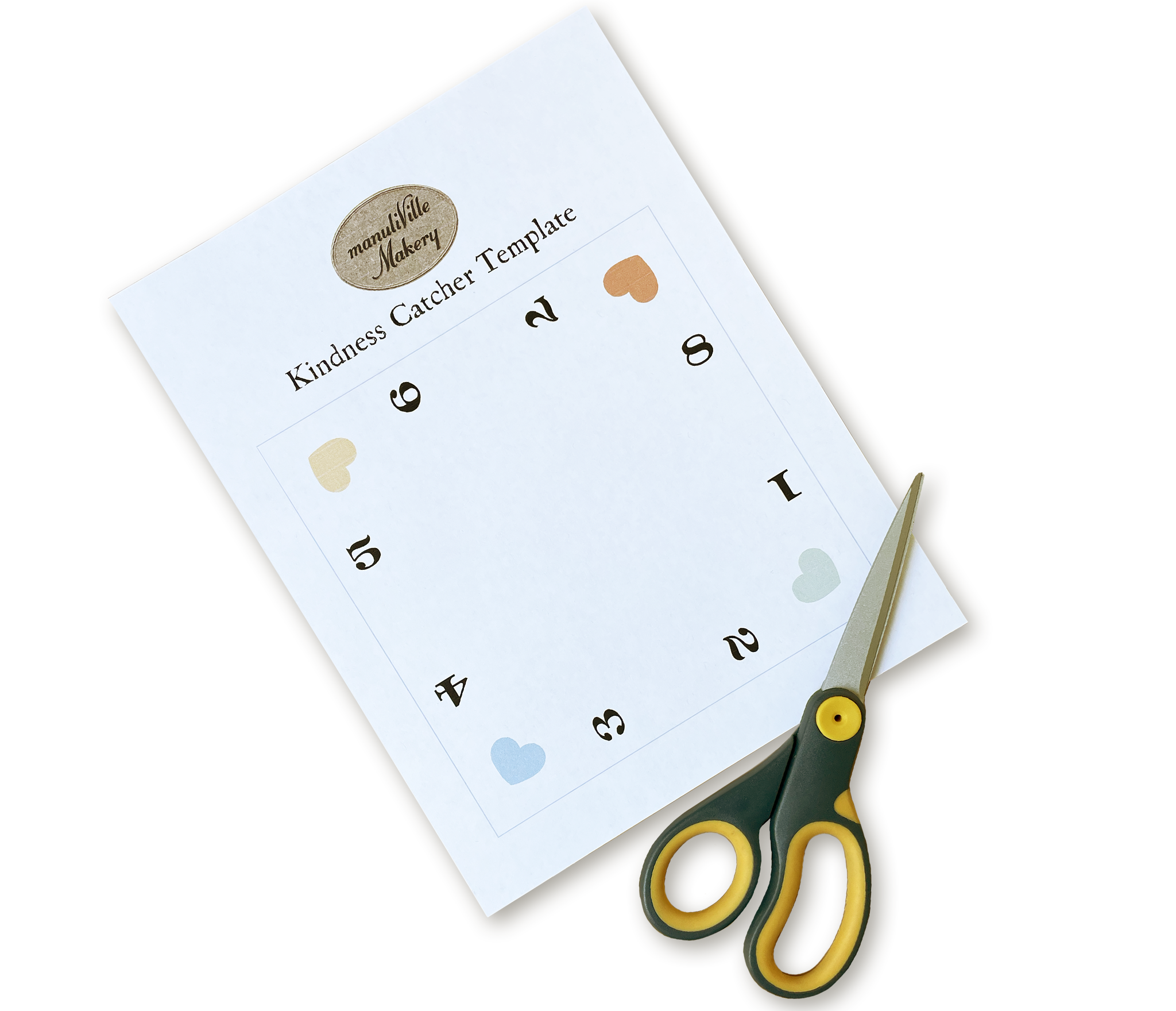 Let's Make It:
Follow along with the video instructions below.

Show your kindness with thoughtful gifts and time spent together