Finding Muchness Gift Set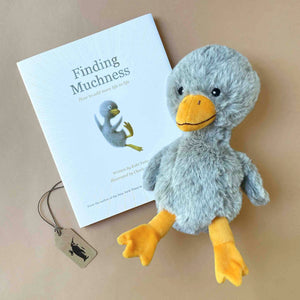 What is muchness? And how do you find it? Muchness is the full-hearted abundance of hope, joy, and imagination that each of us has when we come into this world. Over time, as we
…

Description
Dimensions
Safety & Care
Description
What is muchness? And how do you find it? Muchness is the full-hearted abundance of hope, joy, and imagination that each of us has when we come into this world. Over time, as we take on more responsibilities and worries, our doubts and fears have a way of growing with us. And because of this, we can lose much of our muchness. This little book is about finding it again.
Paired with an adorable plush duckling, Finding Muchness is full of wisdom and wonder for anyone ages 99 and under! It's an invitation to live bravely, care deeply, and get the most out of every one of your moments. This gift set is encouragement to approach the world with wide-eyed wonder.
Dimensions
Finding Muchness Gift Set measures:
- Finding Muchness | How to Add More Life to Life: 8.25″ L x 6.75" W, hardcover and 48 pages long.
- Little Plush Duckling: 4" L x 4.5"W x 8.5" H
Safety & Care
- Recommended for newborn +
- Hand wash only; do not tumble dry, dry clean or iron. Not recommended to clean in a washing machine.
you might fancy these as well