Beechwood Teether Ring Set | Cinnamon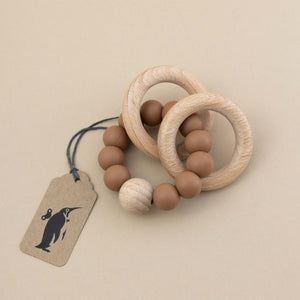 This beautiful Cinnamon Beechwood Teether Ring set is a modern and practical solution for your teething baby. Made with natural wood, it features an easy to grab
…

Description
Dimensions
Safety & Care
Description
This beautiful Cinnamon Beechwood Teether Ring set is a modern and practical solution for your teething baby. Made with natural wood, it features an easy to grab shape with soft silicone beads to massage sore gums.
Dimensions
Beechwood Teether Ring Set | Cinnamon measures:
- Wooden ring: 2" D
- Silicone ring: 2.5" D
Safety & Care
- Recommended for ages 3 months+
- Beechwood Teether Ring is made from non-toxic, natural & untreated, eco friendly beech wood & feature 100% food grade silicone beads that are free from BPA, lead, cadmium, phthalates, PVC & latex. 
- Teethers should only be used under supervision. Please check your teether regularly and before each use for any damaging or loosening. If damage is found, please discontinue use immediately.
- Clean with damp cloth & soapy water. Pat dry. 
you might fancy these as well