Lavender Hand Salve | Small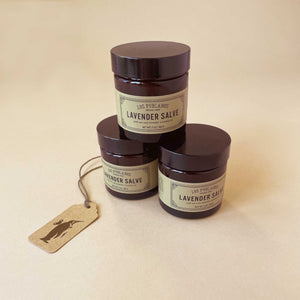 This Lavender Hand Salve is an all-natural, handcrafted, multipurpose product. It started out as an intensive treatment to soothe hard working hands
…

Description
Dimensions
Safety & Care
Description
This Lavender Hand Salve is an all-natural, handcrafted, multipurpose product. It started out as an intensive treatment to soothe hard working hands, but over time the number of uses has just increased. Try it to reduce discomfort from insect bites or minor burns, or rub some on your temples to relieve headaches, maybe dab a little under your nose to ease into a restorative sleep. Made in New Mexico from all natural ingredients and lavender essential oil.
Dimensions
Lavender Hand Salve | Small measures 2.25" L x 2" W x 2" H.
- 2oz
Safety & Care
- Made of all natural ingredients including lavender essential oil.
- Not tested on animals.
you might fancy these as well