Felted Heart Garland | Rainbow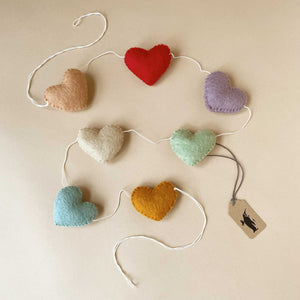 Celebrate togetherness and love with this Felted Heart Rainbow Garland. Handmade by Nepali artisan women using 100% natural sheep's wool…
…

Description
Dimensions
Safety & Care
Description
Celebrate togetherness and love with this Felted Heart Rainbow Garland. Handmade by Nepali artisan women using 100% natural sheep's wool, the chain of sweet pastel-colored hearts include seven colors: pink, lavender, cream, lime green, teal blue, mustard and red. This versatile garland can be used over and over again: wrap up a present, hang it above the crib or bed in a kid's room, or string it along a table or entryway for a joyful addition to your home decor.
Dimensions
The Felted Heart Garland measures 66" L. Each heart measures 2" L x 2.5" W x 0.75" H and the space between each heart measures 4.5" L. 
Safety & Care
The heart garland is made from felted wool and eco-friendly, non-toxic dyes. Spot clean as needed.
you might fancy these as well