Gommu Dog | Ochre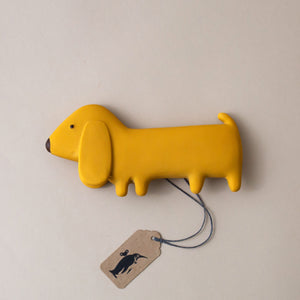 Support even your littlest ones emotional, sensory and cognitive development with this Gommu Dog | Ochre. This unique handmade dog is a sustainable and 100% biodegradable toy
…

Description
More to the Story
Dimensions
Safety & Care
Description
Support even your littlest ones emotional, sensory and cognitive development with this Gommu Dog | Ochre. This unique handmade dog is a sustainable and 100% biodegradable toy made from hevea tree white sap. Hand-painted with organic food grade paint, it's soft and chewable body is also makes a wonderful bath toy. Hermetically sealed, no mold and or bacteria will accumulate inside the doll. It's soft surface and rounded fluffy shape stimulates the sense of touch and is sure to become your child's new best friend.
More to the Story
A mother/daughter project born out of need of creating sustainable, safe and biodegradable toys, Gommu, which means rubber in Japanese, is strongly inspired by the Nippon culture and each of the products reflects the core values of the brand. All gommu dolls are 100% biodegradable, handmade with care and safe for infants.
Dimensions
Gommu Dog | Ochre measures 6.5" L x 1.5" W x 3" H
Safety & Care
- Recommended for all ages.
- Gommu Dog | Ochre is made of 100% hevea and painted with organic food grade paint.
- PVC and BPA-free
- Wipe clean as needed
- Made in Barcelona, Spain