Ginger Snap Milk Chocolate Bar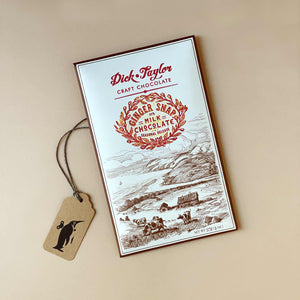 Nothing is more warming than fresh baked cookies and a glass of milk. The Ginger Snap Bar features a rich 55% Brazil Milk Chocolate made with A2/A2 whole milk 
…

Description
Dimensions
Safety & Care
Description
Nothing is more warming than fresh baked cookies and a glass of milk. The Ginger Snap Bar features a rich 55% Brazil Milk Chocolate made with A2/A2 whole milk from Alexandre Family Farm and crunchy ginger snap cookie bits from Bunches & Bunches. It's the perfect combination of sweet & spice with just the right snap. This is a bar you can enjoy all winter long. Each bar is carefully crafted from the bean in a small factory in Northern California.
Dimensions
Ginger Snap Milk Chocolate Bar measures 6.25" L x 4" W and is (2) ounces.
Safety & Care
- Ingredients: Chocolate (Organic Cacao, Organic Cane Sugar, Organic A2/A2 Whole Milk Powder, Organic Coca Butter, Organic Vanilla Bean), Ginger Snap Cookies (Unbleached Enriched All-Purpose Flour, Butter, Molasses, Brown Sugar, Sugar, Eggs, Ginger, Cinnamon, Baking Soda, Vanilla Extract, Salt, Nutmeg, Allspice, White Pepper, Cayenne)
- Made in a facility that processes nuts and dairy.
you might fancy these as well