Wooden Tray Puzzle | Woodland Animals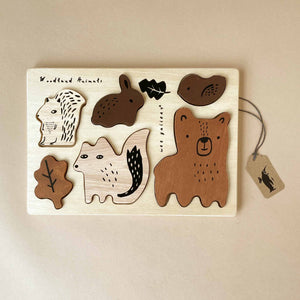 This beautiful six (6) piece Wooden Tray Puzzle | Woodland Animals is perfect for so many kinds of play - solving the sturdy tray puzzle is just the beginning. Your little one can also use the
…

Description
Dimensions
Safety & Care
Description
This beautiful six (6) piece Wooden Tray Puzzle | Woodland Animals is perfect for so many kinds of play - solving the sturdy tray puzzle is just the beginning. Your little one can also use the adorable wooden animals as play time characters in the themed woodland set.
For more educational fun, teach your child to recognize and find each creature in the artwork on the back of each puzzle. Before you know it, your child will be making up their own games to play with the six wooden pieces and illustrated board.
Dimensions
Wooden Tray Puzzle | Woodland Animals measures 10" L x 7" W x 0.5" H
Safety & Care
- Recommended for ages 2+
- This Wooden Tray Puzzle is made from sustainably sourced rubberwood
- Wipe clean with damp cloth. Do not submerge in water.
you might fancy these as well