Organic Cotton Flower Garden Mole Rattle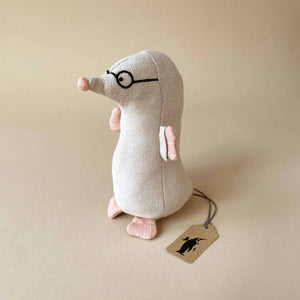 Made from 100% organic cotton, this Flower Garden Mole Rattle loves curious little children and would love to teach your little one about the world underground. With a lovely soft rattle sound
…

Description
Dimensions
Safety & Care
Description
Made from 100% organic cotton, this Flower Garden Mole Rattle loves curious little children and would love to teach your little one about the world underground. With a lovely soft rattle sound, it makes a wonderful companion both inside and outside the house.
Dimensions
Organic Cotton Flower Garden Mole Rattle measures 3" L x 2" W x 6" H
Safety & Care
- Recommended for newborn +
- Flower Garden Mole Rattle is made is made of 100% organic cotton and stuffed with 100% corn fiber and crinkle paper in feet and hands.
- Hand wash as needed; air dry.
you might fancy these as well