Hand Knit Webster the Duck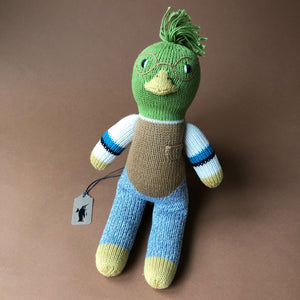 Webster the Duck is a 100% cotton knit animal friend with a knack for reading and adventure. Designed in the US and handcrafted in Peru, Webster is made with high quality materials
…

Description
Dimensions
Safety & Care
Description
Webster the Duck is a 100% cotton knit animal friend with a knack for reading and adventure. Designed in the US and handcrafted in Peru, Webster is made with high quality materials and is sure to be with your little one for years.
Dimensions
Webster the Duck measures 3.75" L x 6.5" W x 19.5" H
Safety & Care
- Recommended for ages Newborn +
- Webster the Duck is made of 100% cotton knit and polyester fiber.
you might fancy these as well