La Tierra (Man Bar) Handmade Soap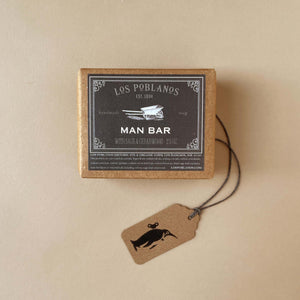 A hard day's work requires an equally hard-working soap. This Man Bar Handmade Soap blends sage, cedarwood and vetiver essential oils
…

Description
Dimensions
Safety & Care
Description
A hard day's work requires an equally hard-working soap. This Man Bar Handmade Soap blends sage, cedarwood and vetiver essential oils to create a uniquely earthy scent reminiscent of a day spent outdoors. Infused into a base of all-natural ingredients including beeswax and avocado oil, it forms a bar of soap that is as effective as it is enjoyable to use. This soap works just as well for women as it does for men. Expert tip: Rub Lavender Salve onto dry knuckles and cuticles after washing hands.
Dimensions
Man Bar Handmade Soap measures 2.5" L x 3.25" W x 1.25" H and is (5) ounces.
Safety & Care
- Recommended for all ages.
- Man Bar Handmade Soap is made of all natural ingredients and essential oils in New Mexico.
- Tested on farmers, not animals.
you might fancy these as well