Organic Cotton Kimono Onesie | Just Hatched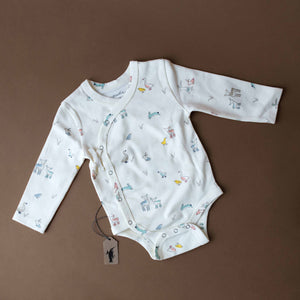 You won't be able to resist extra cuddles when you dress your baby in the Organic Kimono Onesie | Just Hatched. The charming print features many baby animals
…

Description
Dimensions
Safety & Care
Description
You won't be able to resist extra cuddles when you dress your baby in the Organic Kimono Onesie | Just Hatched. The charming print features many baby animals printed in soft blues, yellow and pinks on a cream background. Since these onesies are made of certified organic cotton, you'll feel good about what is against your baby's skin.
Dimensions
Organic Cotton Kimono Onesie | Just Hatched measures:
- 3-6 Months: 15" L x 9.5" W. Height 23-26." Weight 15-20 lbs
- 6-12 Months: 16" L x 10" W. Height 26-29." Weight 20-25 lbs
Safety & Care
- Organic Kimono Onesie is ethically made of 100% Organic Cotton and dyes.
- Machine wash cold, tumble dry low, do not bleach, warm iron if needed.
you might fancy these as well